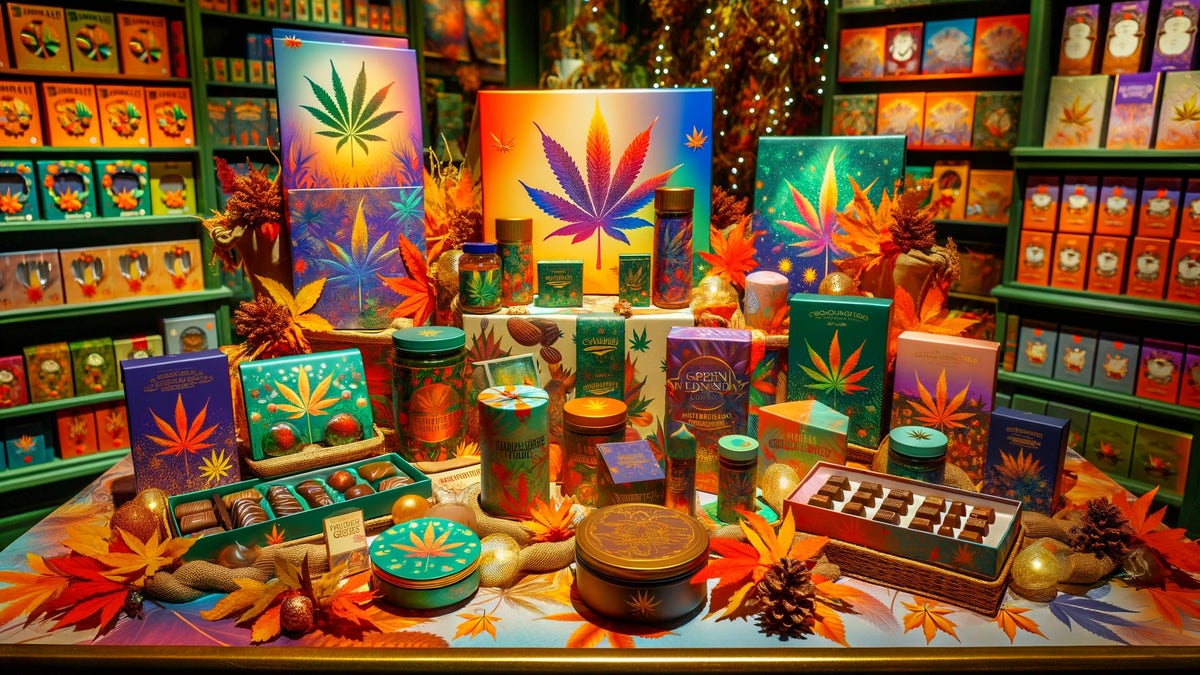 Get ready to elevate your Thanksgiving experience with a dash of Green Wednesday excitement – the cannabis community's second most significant holiday, right after the iconic 4/20.
As we gear up for the traditional festivities, let's explore the latest cannabis products that are not only perfect for gifting but also for your own culinary enjoyment.
See Also: Ready-To-Bake: Optimize Cannabis Retail Sales For Thanksgiving With BDSA's Basket Analytics
Tempo Solventless Hash 2-Pack Crackers By Tempo Crackers: Spice Up Your Snack Game!
California's edibles scene just got a major upgrade with Tempo Crackers' latest creation – the Tempo Solventless Hash 2-Pack Crackers. These bite-sized wonders, infused with a unique 100mg THC experience, come in flavors like Chili Limon, Truffle Parmesan and Buffalo Cheddar. Priced between $8 and $10, these munchies are available at select California dispensaries And guess what? A vegan option is on the horizon!
Boysenberry's Gummy by Wyld: The Triple Threat to Your Sweet Tooth!
Wyld, a leading U.S. cannabis brand, is shaking things up with the Boysenberry's Gummy – an Indica-enhanced sleep gummy with a balanced 1:1:1 ratio of THC, CBD (cannabidiol), and CBN (cannabinol) – as well as botanical terpenes. With 13 flavors made from real fruit and high-quality ingredients, Wyld ensures a consistently delicious and reliable consumer experience. These guilt-free gummies are not just a treat for your taste buds but also a win for sustainability, holding Climate Neutral Certification and supporting environmental and social initiatives.
See Also: Cannabis Dispensaries Gear Up For Green Wednesday
D9 + HHC + THCP Gummies by Exhale Wellness: Elevate, Don't Hesitate!
Exhale Wellness is taking cannabis innovation to new heights with its D9 + HHC + THCP Gummies, available in Apple, Berry, and Fruit flavors. Each gummy is a harmonious fusion of 15mg of Delta-9 THC, 25mg of HHC, and 1mg of THCP. Priced at $99.95 per bottle, these gummies are Farm Bill compliant, cruelty-free, and crafted with plant-based ingredients. Rigorously lab-tested for consistency and potency, Exhale Wellness ensures a premier cannabinoid-infused experience, free from artificial additives.
Ethos Troches Powered by Unlokt: Chew Your Way to Bliss!
Ethos introduces Troches Powered by Unlokt – 'chewable lozenges' featuring only two ingredients: cannabis and protein. Developed in collaboration with Day Three Labs, these discreet and fast-acting lozenges come in three flavors, providing relief without the need for extra equipment. Find them at all nine Ethos cannabis dispensaries in Pennsylvania.
Green Wednesday Cannabis Promotions: From Arizona To Massachusetts
Adding to the Green Wednesday excitement, various companies are joining the celebration with irresistible promotions.
Insa Cannabis steals the spotlight, offering discounts of up to 50% off the entire store in Florida and up to 40% off in Massachusetts and Ohio. It's the perfect opportunity for cannabis enthusiasts to stock up and celebrate the season with a bang!

But wait, there's more! Mint Cannabis, known for its array of cannabis-infused delights and unbeatable deals, has a Thanksgiving feast in store. Pre-order side dishes, including gravy, cranberry sauce, and more, at $15 each. Elevate your feast with cannabis-infused pumpkin and pecan pies for $20 each, or indulge in a complete Thanksgiving meal bundle for $79. The flagship Tempe (AZ) dispensary opens 24/7 from Nov. 21-26, offering swag bag giveaways, free uninfused tacos, and more on Green Wednesday.
So, as you prep for the Thanksgiving feast, why not spice things up a bit with some cannabis delights on Green Wednesday? Whether you're expressing gratitude through gifting or treating yourself to a unique experience, Happy Green Wednesday to all the cannabis enthusiasts out there!
Read Next: European Cannabis Genetics Brand Royal Queen Seeds Opens Its First US Retail Store In New York
Image created using artificial intelligence tools